A Black Rose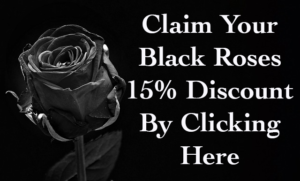 Mother Nature has not produced  "A Black Rose "  per say.  People like to use black roses for many different fun occasions like to celebrate a birthday of a friend who is over the hill or for Halloween fun or just for a different look.  The only thing close to a black rose are the very dark red roses referred to as Black Magic Roses or Bacarra Roses.  There is no such thing as a real black rose that Mother Nature has produced.  However roses can be tinted black to give a black color appearance.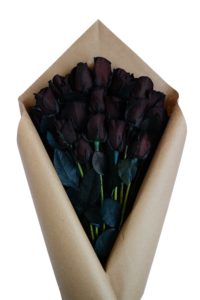 Black Roses Tinted. If you have received black roses in the past they were tinted black with dye or black food coloring.  Black roses can only be found in silk or other types of cloth form or found as a dark red rose tinted black.   There are a very limited number of  florists on the internet that will tint black.; here at Buy Black Roses; I have done the searching for those of you looking for a tinted black rose.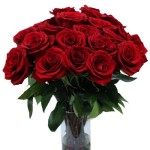 Black Magic Roses. These roses are dark red in color with a little black that gives the roses a silky look.  They make a beautiful bouquet for the bride to be and is the most sought after rose for the "bride to be."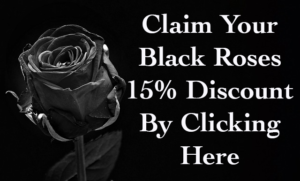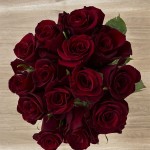 Bacarra Roses. When people are looking for black roses many of them do not know that bacarra roses are the closet roses to getting a black rose in nature.  Bacarra roses are darker red with more black around the edges.  They are a tinge darker than the black magic rose.  So when looking for real fresh black roses; the bacarra rose is the closest thing you will get to a real live freshly grown black rose anywhere in the world.   The bacarra rose conveys a sense of magic due to its deep blackberry color. When placed under dim lights, the black bacarra rose appears mysteriously black.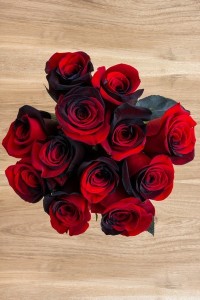 Black & Red Roses.  A new twist.  It is very seldom that you see black and red roses made into one.  They are something different and unique.  The twist conveys a sense of uniqueness.  These will for sure give a new look on the center of the dinner table.
Why Are Black Roses Hard To Find Online
Finding black  roses online can be a  bit of a challenge.  Why; because there are not many florist that want to be bothered with the hassle of tinting dark red roses or white ones for that matter.   Some so some don't many florist have different reasons why they don't.
We live in a world where everybody wants something they can't have and sometimes that is why you see so many people asking about black roses.  Remember what we said earlier, mother nature did not create a black rose.  Many florist's website's will not advertise tinted black roses because they say they may stain a brides wedding gown.  Well often times people are purchasing black tinted roses for mysterious or fun reasons, such as Halloween, to celebrate a friends birthday that they consider over the hill, or to decorate for a black tie celebration.   There may be other reasons but these are just to name a few.  Just because you may have a challenge if finding a florist to tint roses black should not mean give up on your journey.  If you want them then go for it and get them.
Getting roses, black roses can be fun, different, and unique.    Ordering them online is very convenient because you can order from the comfort of your home, or office.   Delivery of  black roses from an online florist can be exciting and fun just waiting to see how they look.
For whatever you are interested in ordering Black Roses online I wish you much happiness and fun.
Home| About Us| Contact Us|Disclosure| Policy Privacy|Sitemap

Referrals:
black roses
black roses for sale
black rose
buy black roses
real black roses